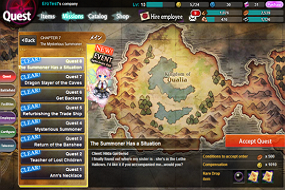 Quests follow Battles that happen in a storyline, and will grant you EXP and rewards as you progress. There are also some limited time only event quests.
Beginning a quest costs some food. If you don't have enough you can't start a quest. If you end the game or close your browser in the middle of the quest, you will be asked the next time you start if you would like to continue it or not. If you choose not to continue, the quest will end in failure, and you will have to start over from the beginning next time you choose that quest. Please note that you will also lose all loot you obtained along the way.
Main Quests
Part 1
Part 2
Part 3
Class Quests
Timed Quests
Material Quests
Event Quests
Phantom Labyrinth

This page has been seen 147,436 times.
Created by

Last updated by

Contributors: