Explore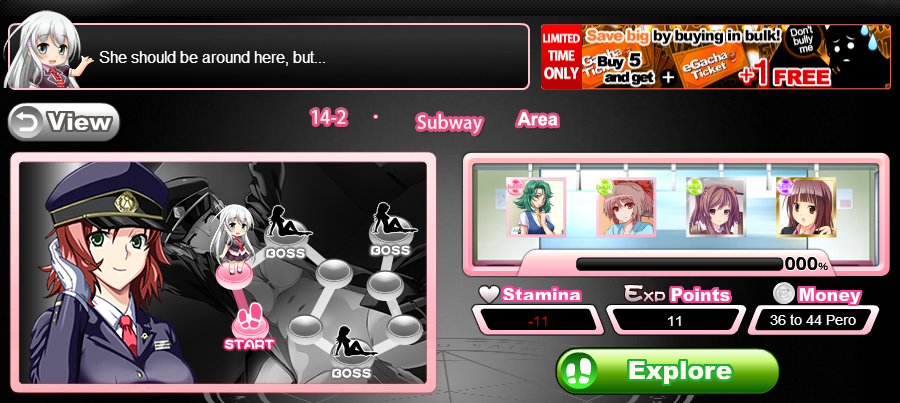 Explore the world for new sexual partners and techniques. Unite all of your companions into a cum hungry harem set to dethrone the naked king from his reign of sexual supremacy.
In exploration, you will search for target girls. Exploration will use Stamina, but you can receive Exp, Pero and Cards.
Stamina recovers by one per minute, and is used in Exploration. Max Stamina increases when you level up or get more PeroFriends.
Exploration Results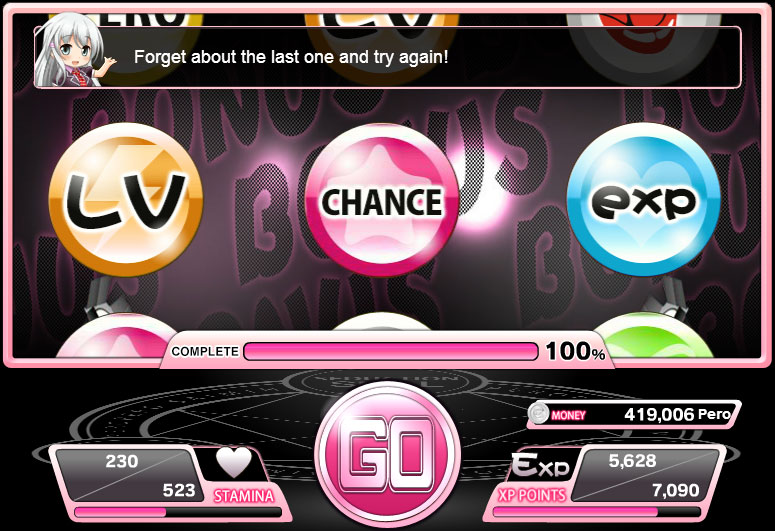 Chance: When the chance icons line up, you advance to "Chance Time", where you can get cards.

Pero: When the Pero icons line up, you receive approximately 10 times the normal amount of Peros.

EXP: When the EXP icons line up, you receive approximately 2 times the normal amount of EXP.

Gift: When the gift icons line up, you can gift items to other players.

Misses: This means that nothing lined up correctly, but Exp and Peros will still increase slightly.

Chance Time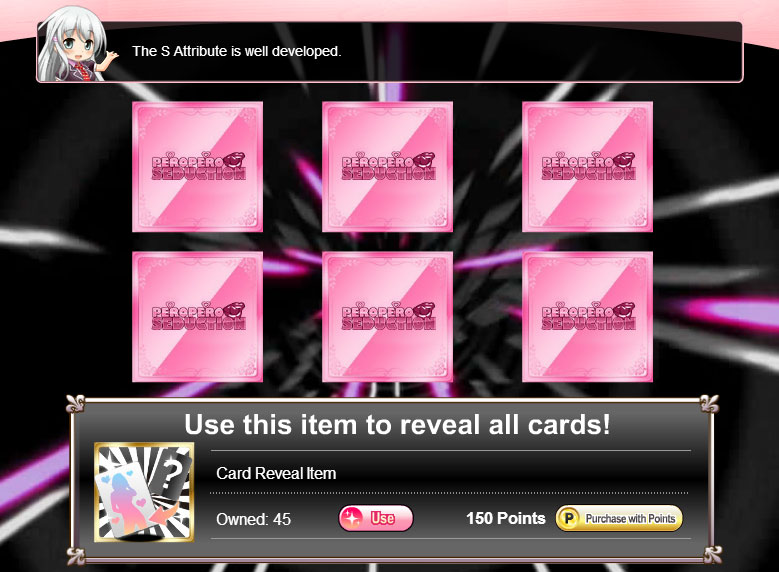 You get to choose one of the six cards from ones that are dealt to you.
In explore, duplicate cards in explore turn into Coins if the maximum level cap is already reached.
The amount of coins is 300, 700, and 1500 for N, R and SR respectively.
The cap is 100 if you did not unlock Ex-Levels, or higher if you unlocked Ex-Levels.
Remember that the outcome of duplicates at max level is different in Gachas.
See
Cards
for details about Ex levels.
Pseudo Streak and Step Up
Flashing colors and repetitions of chance+tongue+lv with a "almost" caption are one hint of how many R cards are among the draw. It is between 1 and 6. One SR may be among them too but it is still very rare.
The helper calls it a "pseudo-streak" while the help section below the game calls it a "Fake-Out Animation". We use "pseudo" in the official chat.
In the gachas the flashing color is displayed but not the caption nor the repetition.

Flashing CG pictures are a hint of an increased probability that a SR is among the draw.
It is between 1 and 5 while 5 steps guarantee there is one SR.
(We conjectured it might be 20% chance per step-up but you should not count on it.)
Both the helper and the help section below the game call it a "step-up" .

The pseudo-streak and step-up are not that useful in story since the roster is tiny in story, but it can be useful in gachas and events.
Bonus Area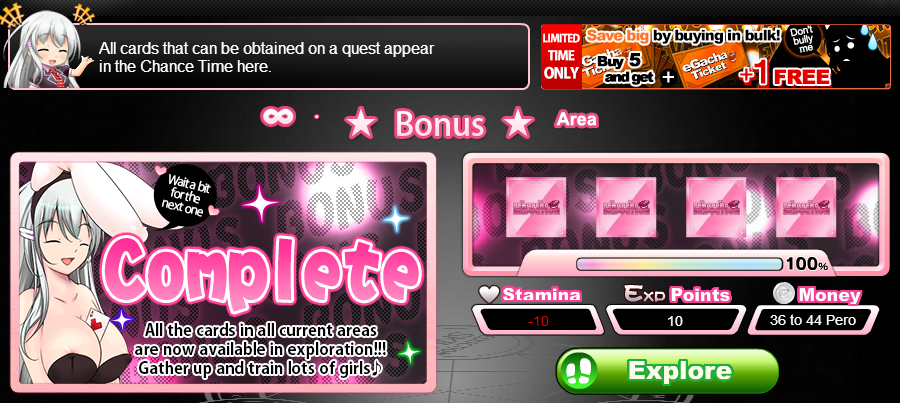 Bonus Area is a special area that gets unlocked once you clear all other areas.
In the bonus area, you can find all of the cards and Wild Cards available in previously cleared areas.
If a new area has been added, you can explore the bonus area after clearing all areas, including those that have been added.
Seduction Battles
As you continue exploring, the target girl will appear. Use the cards you have collected along with your Focus to seduce her.
A set amount of Focus is required for seduction battles. One unit recovers every five minutes.
Stage 1
Stage : 1-1 > Location : Ochanomizu
Boss
Description
Yuki Kashima runs a dating club in the Ochanomizu area.
Some of the girls go off to the Naked King, and the rest go off to be victims of politicians and certain other buyers...

Jealous of... err, disgusted by this harem of the Naked King's, our hero decides to take on and get down with Yuri.
Obtainable Cards
Stage : 1-2 > Location : Shinjiku
Boss
Description
Sakura Shirohata works as a nurse at a hospital in Shinjuku.
Under the premise of "special treatment" she sends patients away to the Naked King.
With her special abilities, she protects herself with VSC and it leads to a tough fight.
But with his inherent skill out hero takes down the seemingly impenetrable VSC and pushes Sakura back.
Obtainable Cards
Stage : 1-3 > Location : Hongo
Boss
Description
Hinako Nayotake works as the school nurse at Tokyo University's Hongo campus.
Under the guise of "counseling" she scouts useful agents for the Naked King and possess them.
Using her occult powers and trauma, she drives out hero into a corner, but with built up tolerance from dealing with the Naked King's brother, our hero...
Obtainable Cards
Stage : 1-4 > Location : Asakusa
Boss
Description
Living pleasantly in a run-down apartment in Asakusa...
Sometimes playing nice, sometimes not so much, ever awaiting the Naked King's orders.

Contrary to the way it looks, the inside has been outfitted with state-of-art traps.
But to think that it would work against her...
Obtainable Cards
Stage 2
Stage : 2-1 > Location : Akihabara
Boss
Description
Ren runs a sex shop and a maid cafe in Akihabara.
Girls round up by the others get sent to her.

Our hero resents this shop as not being feminine enough.
Regretting the last time he came here, he's kind of going at this to vent that frustration, but...
Obtainable Cards
Stage : 2-2 > Location : Den-en-chofu
Boss
Description
Misaki works as a service worker at a nursing home in the high-end town of Den-en-chofu.
She does her job dutifully, of course, but she also gets a little touchy-feely, it seems.
Now a witch, Misaki comes out to greet you along with a monster from the Sex Monster series.
Here our hero must use his endless desire to engage in a heated battle with the witch while getting off to this illusion of Misaki.
Obtainable Cards
Stage : 2-3 > Location : Sanda
Boss
Description
She's a student at KO University in Sanda.
Her research focuses on aphrodisiacs and truth serums as physical enhancement drugs.
She comes after our hero with an understanding of his comind and going preferences.
But with his God Hand hypnosis, he doesn't leave any room for attack!
Obtainable Cards
Stage : 2-4 > Location : Harajuku
Boss
Description
A fitness instructor at a club in Harajuku.
Under the power of the Naked King she has now become a school swimsuit-wearing warrior!

She starts off going at her own pace, but can her perverted propensities rival out hero's...?
Obtainable Cards
Stage 3
Stage : 3-1 > Location : Akihabara
Boss
Description
With nowhere to go, our heroes head back to Akihabana.
Using the information about Ren, they start searching for An.

A manga cafe that changes face at night. A mysterious subway.
What awaits them ahead is...
The gothic lolita accompanying the Sex Monster Series sends our spineless hero fleeing!
Obtainable Cards
Stage : 3-2 > Location : Shibayu
Boss
Description
This biased new caster only covers the Naked King as if he were a god.

The group continues their investigation and secretly (?) infiltrates the TV station.
Where is this portrait of the Naked King this woman, who refers to herself as the goddess Athena reborn, was talking about?
Obtainable Cards
Stage : 3-3 > Location : Harajuku
Boss
Description
The Elite Guard secret base run by Shiori Honjo...
It had security maintained by the famous SACAM?!

Finding one of their technicians in town our heroes follow after them, but...
Who is this girl who can make full use of these traps, and is expected to be the future Naked King?!
Obtainable Cards
Stage : 3-4 > Location : Kamata
Boss
Description
Hearing rumors of loan sharks working under the Naked King, our heroes arrive at the scene.
What awaits them was a strong-armed female CEO who ran an organization all on her own.
Trying to get in, our hero gets an interview at the company, but his ploy doesn't last...
Will this send him and the CEO into battle?!
Obtainable Cards
Stage 4
Stage : 4-1 > Location : Akabane
Boss
Description
The party now finds themselves at a handshake event for idol Mayu Arimura.
But Mayu is already under the control of the Naked King.
With this unbeknownst to them, our hero happily agrees to meet her privately...
Obtainable Cards
Stage : 4-2 > Location : Subway
Boss
Description
Takako Mihashi's sister. Hearing that Aoi had lost touch, our heroes head to her workplace.
Finding her there, they watch as she then heads to get on a suspicious looking train headed somewhere...
Where is this train heading? What is the Naked Kind really trying to do?
Bust through the traps laid ahead and get to her!!
Obtainable Cards
Stage : 4-3 > Location : Chiyoda
Boss
Description
Our heroes find themselves at an all-girls school after receiving information about a student who had suddenly started acting differently.
Sneaking their way in, a student in gym shorts suddenly comes busting out of class...
It's none other than their target, Akira Kudo.
Following her they find...
Obtainable Cards
Stage : 4-4 > Location : Jukai
Boss
Description
Misled by some Naked King info up on channel 3, the party heads to Jukai.
As they stumble through the darkness and check their footing they find a corpse...
No, no, it's just Junko, the one who spread the false info in the first place.
It sounds childish, but this science-y girl uses all sorts of measures to push back our hero..
Obtainable Cards
Stage 5
Stage : 5-1 > Location : Kita-Senju
Boss
Description
Posing as parents our hereos sneak into a school in a Kita-Senju.
What they spot is a bitch-ified version of Mira Yushu.
Will they be able to seek her out in this wid campus without blowing their cover?
Obtainable Cards
Stage : 5-2 > Location : Kodaira
Boss
Description
Going on the faintest of clues our heroes head to Kodaira.
But this is Izayoi Yuugiri's territory.
Are these inexplicable things that are happening to our hero by chance or planned out....?
Could our hero be in trouble....!
Obtainable Cards
Stage : 5-3 > Location : Tacikawa
Boss
Description
With intel that the Naked King was controlling a housewife in a residential area there, the party heads to Tachikawa.
The big-breasted beauty Shizuka Mita answers the door, and doesn't look like she has a bad bone in her.
Our heroes get inside by acting as door-to-door salesmen, but...
Obtainable Cards
Stage : 5-4 > Location : Gotanda
Boss
Description
This time our heroes head to Gotanda to meet a famous stage actress.
Who they run into is Lifa Phorne herself.
But without enough actors, our hero is called up as an emergency understudy...
Is this the start of a fiery love story between a knight and princess?!
Obtainable Cards
Stage 6
Stage : 6-1 > Location : Shimokitazawa
Boss
Description
Our heroes arrive in a peaceful park in Shimokitazawa.
Chasing after the cat they encounter there...
They wind up running into Maiko Mishima, who works as a maid for a wealthy man.
Why is she here...?
Get to the bottom of this!!
Obtainable Cards
Stage : 6-2 > Location : Nihonbashi
Boss
Description
Out on patrol, our heroes head to Nihonbashi.
They haven't found any leads on the Naked King though, and have really worn themselves down.
Finding a Japanese massage parlor, they head in to relieve some stress...
There they meet the beautiful masseuse Yoshikage Asakura...
And our hero ends up being the one GIVING a massage?!
Obtainable Cards
Stage : 6-3 > Location : Azabu-Juban
Boss
Description
Having heard some info about their target, our heroes have come to Azabu-Juban.
Our hero promptly runs into a girl carrying a picture book.
This girl, who ends up treating them to some food, is Yurine Amamiya.
What is the trauma that rumbles beneath the surface of her mysterious past...?
Obtainable Cards
Stage : 6-4 > Location : Tachikawa
Boss
Description
Having heard rumors of a twin-tail phantom thief, our heroes have come to Tachikawa.
Our heroes thought they had made all the necessary preparations, but...
Hanbei Takenaka appears, jewel in hand.
Will our intrepid adventurers be able to capture the phantom thief?!
Obtainable Cards
This page has been seen 53,891 times.
Created by

Last updated by